Garfield Puzzle M is a cute Match 3 Puzzle Game, full with Garfield atmosphere combined with satisfying effect. With over a billion people that love cute and fascinating Garfield, this cute Match 3 Puzzle Game is one of the most popular mobile games of all time!.


Stuffed up by the
COPPA Compliance
, this game is safe to be played by your kids. COPPA Compliance
aka Children's Online Privacy Protection Act
. COPPA requires developer to establish and maintain reasonable procedures to protect the confidentiality, security, and integrity of personal information collected from children. Minimize what we collect in the first place. In which, your kids can play
Garfield Puzzle M
without any concern of all.
Talking about feature and gameplay, we have done our best in putting the effort that, you are not going to get bored playing this game the whole day long. Garfield Puzzle M is a match three game that is created for someone who love to brainstorm. Each stage has different sense of difficulty, different mode and different satisfaction once you have finished it. Take a note if melting ice, stopping fire, popping balloons or exploding bricks doesn't satisfy you yet, remember that you still have another challenge to be completed, it's to collect all of the Garfield's Poster Mission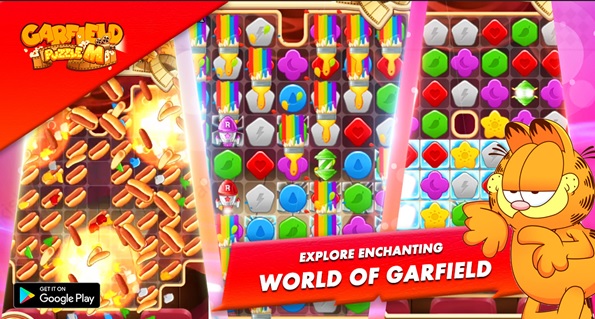 that has various Garfield cute pose by finishing the whole episodes in the almost-perfect-way. There are more than 100 posters waiting for you to collect, and all of them are exclusively made for the best Garfield's fan amongst all.
More than 500+ stages to complete compiled with various challenge
Collection Feature : Achievements and Garfield Poster
Satisfying effect combined with bright and colorful color
Presented in more than 12+ Foreign Languages
User friendly interface
These feature will take your casual gaming experience into something that last long. Turn up your dull day into the brightest one of all! Because you won't be able to leave Garfield alone!
Play Garfield Puzzle M NOW :